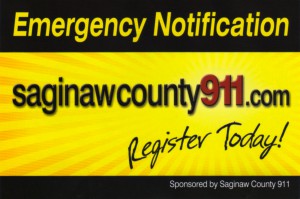 • This system may be used in the event of an incident that threatens harm to life and/or property or is deemed hazardous by emergency personnel.
• To register, visit www.saginawcounty911.com and complete the self registration form.
• If you do not have web access, contact your local city, township or village office or call 1-877-670-3330 for registration assistance.
• All personal information entered into the self registration database will remain confidental.
• Only portions of that database, not the entire contact list, will be tested the first Wednesday of every month at Noon.
• For more information or to register visit: www.saginawcounty911.com